El pasado 7 de enero, la serie The Marvelous Mrs Maisel, ganó dos Globos de Oro en la 75ª ceremonia de los Globos de Oro en Beverly Hills, California. La serie estará disponible en castellano en PrimeVideo.com el 26 de enero.
The Marvelous Mrs Maisel
Disponible exclusivamente en Amazon Prime Video, The Marvelous Mrs Maisel ha Ganado del Globo de Oro a Mejor Serie de Televisión – Musical de Categoría de Comedia, mientras que Rachel Brosnahan se alzó con el premio a la Mejor Actuación en una Serie de Televisión – Musical de Categoría de Comedia.
The Marvelous Mrs Maisel está también protagonizada por el ganador del Globo de Oro y tres veces ganador del Emmy Tony Shalhoub (Monk) como el padre de Midge Abe Weissman, Alex Borstein (Family Guy) como Susie Myerson, Michael Zegen (Boardwalk Empire) como el marido de Midge, Joel Maisel y Marin Hinkle (Two and a Half Men) como la madre de Midge Rose Weissman. The Marvelous Mrs. Maisel está disponible exclusivamente en available Amazon Prime Video.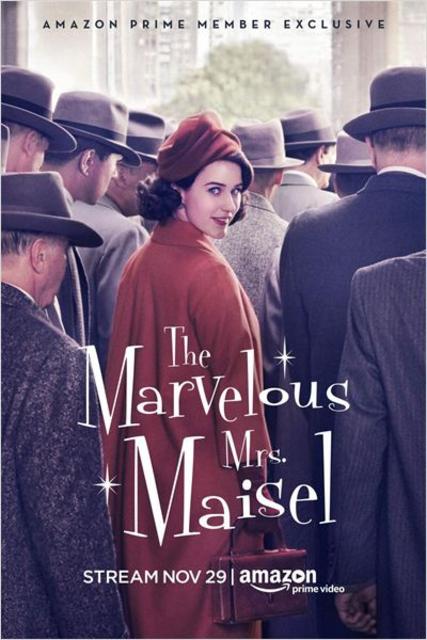 Ficha Técnica
Título original: The Marvelous Mrs Maisel
Año: 2017
Duración: 57 min.
País: Estados Unidos
Director: Amy Sherman-Palladino, Daniel Palladino
Guion: Amy Sherman-Palladino, Daniel Palladino
Música: Eric Gorfain, Sam Phillips
Fotografía: M. David Mullen, Eric Moynier
Reparto: Rachel Brosnahan, Alex Borstein, Tony Shalhoub, Marin Hinkle, Gilbert Gottfried, Luke Kirby, Michael Zegen, Bailey De Young, Holly Curran, Victoria Nowak, Doris McCarthy, Brian Tarantina, Caitlin Mehner, Joel Johnstone, Victor Verhaeghe, Betsy Hogg, Kyla Walker, Mike Massimino, Matilda Szydagis, Haleigh Ciel, Matt Bailey, Aime Donna Kelly, Rory Duffy, Gina Costigan, Tom Stratford, Matteo Pascale, David Bluvband, Wakeema Hollis
Productora: Picrow / Amazon Studios. Distribuida por Amazon
Género: Comedia. Años 50
Sinopsis
La serie, escrita y dirigida por Amy Sherman-Palladino (Gilmore Girls), y producida por Daniel Palladino (Family Guy), está protagonizada por Rachel Brosnahan (House of Cards), que interpreta a Miriam "Midge" Maisel, una mujer de Nueva York de 1958 que tiene todo lo que siempre ha querido – el marido perfecto, dos hijos, y un elegante apartamento en el Upper West Side perfecto para ser la anfitriona de la cena Yom Kippur. Pero su vida perfecta da un giro inesperado cuando Midge descubre un talento hasta entonces escondido – que cambia su vida para siempre. Su vida pasa del acomodado Riverside Drive a los clubs nocturnos de Greenwich Village mientras triunfa como monologuista… lo que la terminará llevando al sillón de Johnny Carson.
Premios de The Marvelous Mrs Maisel

Globos de Oro: Mejor serie comedia y Mejor actriz (Brosnahan). 2017
Critics Choice Awards: 3 nominaciones incluyendo mejor serie comedia. 2017
Sindicato de Productores (PGA): Nominada a Mejor serie de TV – Comedia. 2017
Fuente Amazon Prime Video